AEO Advanced Certification of Customs — "Golden Signboard" for Promoting stability and Quality of Quanzhou foreign Trade
        On October 21, Quanzhou Customs issued AEO advanced certification to Quanzhou Zhongtai Import and Export Co., LTD., which passed AEO advanced certification, realizing "zero breakthrough" in AEO advanced certification cultivation of foreign trade comprehensive service enterprises. This is a scene in which Quanzhou Customs conscientiously carried out the practice activity of "I do practical things for the people", actively promoted the construction of import and export credit system, and guided enterprises to make full use of AEO international mutual recognition policy dividends. A total of 19 enterprises in Quanzhou Customs area have obtained AEO advanced certification enterprise qualification. AEO advanced certification of customs is becoming the "golden signboard" to promote stability and improve the quality of Quanzhou foreign trade.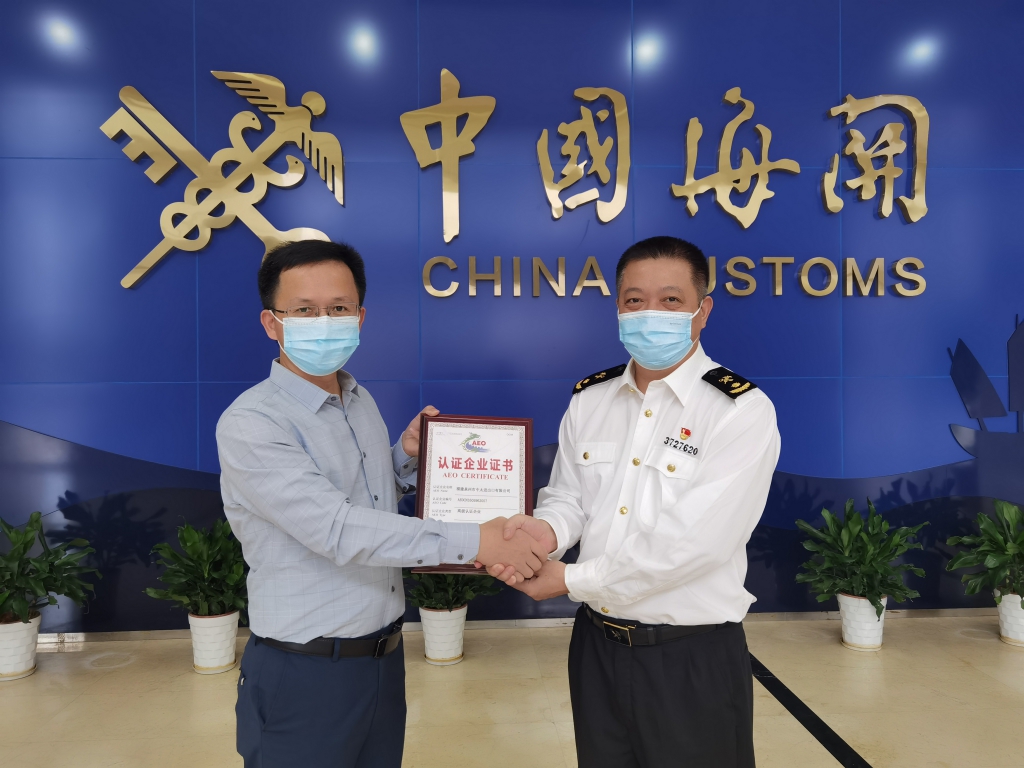 Quanzhou Customs issued AEO advanced certification to enterprises
        AEO (Authorized Economic Operator) is the "Authorized Operator" of the Customs. AEO is the foreign trade subject recognized by the World Customs Organization (WCO) as meeting the relevant supply chain security standards in the Framework of Global Trade Security and Facilitation Standards. By the end of August 2021, China's Customs had signed AEO mutual recognition agreements with 46 countries (regions) from 20 economies, including Singapore, the Republic of Korea and the European Union, ranking first in the world. After passing the AEO advanced certification, enterprises can not only enjoy preferential domestic customs clearance and exclusive coordinator services, but also enjoy "VIP" status treatment such as reduced inspection rate and fast customs clearance.
        According to corporate governance in the relevant controller introduces, quanzhou customs AEO senior certification enterprises to the mutual recognition of country (region) of export goods, as long as senior authentication enterprise coding (CN + 10 registered in China customs enterprise code) reporting to the country (region) importers, the countries (regions) the importer in accordance with regulations of the local customs declaration is allowed, After confirming the identity of Chinese AEO enterprises, the customs of countries (regions) of mutual recognition will provide corresponding facilitation measures. According to statistics, AEO enterprises in China can reduce the inspection rate of countries recognized internationally by 60-80%, and the time and cost of international customs clearance can be reduced by more than 50%.
        Since this year, in the face of the adverse impact of COVID-19 on foreign trade and continuous international trade friction environment, Quanzhou Customs earnestly implement measures to stabilize foreign trade and foreign investment, vigorously promote the construction of import and export credit system, actively guide the use of good certification enterprises preferential management measures, help Quanzhou high-quality development of foreign trade economy. On the one hand, the establishment of AEO credit cultivating special work team, using online, intensive cultivation, and the combination of "one to one" key guidance, policy system that combines interpretation combined with field certification to inspect, guide enterprises to the "standard of customs senior certification enterprises" internal control, financial situation and the law standard, four categories of trade safety standards, Comprehensively improve the level of business management and risk resistance, and constantly compress the time of field certification, improve the efficiency of certification, to help enterprises through certification in the shortest time; On the other hand, the customs has also actively implemented the enterprise coordinator system. Relying on the enterprise coordinator group in the Customs area and the wechat platform of "China Customs Credit Management", it has built a service system of "one to one", "first question and responsibility" and "whole process tracking" for difficult problems. On the basis of urging and helping enterprises to continue to operate in good faith and abide by the law, and standardizing their operation, Provide "7×24 hours" consultation and coordination service for customs certification enterprises.
        According to statistics, the total import and export value of Quanzhou city in the first three quarters of this year is 195.77 billion YUAN, up 42.4% year on year. In the customs AEO international mutual recognition, coordinator system, customs clearance preferential system dividend "support", Quanzhou Customs AEO advanced certification enterprises vigorously explore overseas markets, actively create unique brand advantages in the international, quanzhou foreign trade stability to make a positive contribution to improve quality.
        "AEO advanced certification is like a 'gold signboard', through the careful cultivation of the customs, the company has changed completely! Through the certification, customs clearance speed one step faster, cost saving one-upmanship, to bring us the real money of convenience and preferential measures. Thank you so much!" On October 21, General manager Wu of Fujian Quanzhou Zhongtai Import and Export Co., Ltd. expressed his gratitude to quanzhou Customs enterprise Management Office for "Sincere support from enterprises, pragmatic, efficient and high-quality service".
Article source:Xiamen customs