Learn party history do practical affairs series of activities Hui 'an County "help enterprises grow" foreign trade training (the second phase)
        In order to further enhance the practical level of international trade business of Hui 'an county import and export enterprises, strengthen the ability of foreign trade enterprises to prevent international trade risks, train more high-quality, practical foreign trade professionals, to meet the urgent needs of foreign trade enterprises in this county. Huian County industrial information and commerce bureau and foreign trade comprehensive service enterprise fujian Quanzhou Zhongtai Import and Export Co., Ltd. in July – November divided into three stages of Huian County "help enterprises grow" foreign trade practical training, to ensure that foreign trade orders to achieve safe orders, arrange production, secure receipt of payment.
01.Campaign speech
       October 28, Hui 'an county "help enterprises grow" the second phase of foreign trade training held in Chongwu. This training activity is sponsored by Huian County Industrial Information and commerce Bureau, presided over by Mr. Wu Taiyu, chairman of Fujian Quanzhou Zhongtai Import and Export Co., LTD.
        Mr. Wang Longping, deputy director of Industrial Information and Commerce Bureau of Hui 'an County, and Mr. Wu Zhenning, deputy mayor of Chongwu Town respectively made a simple opening speech to the training activity.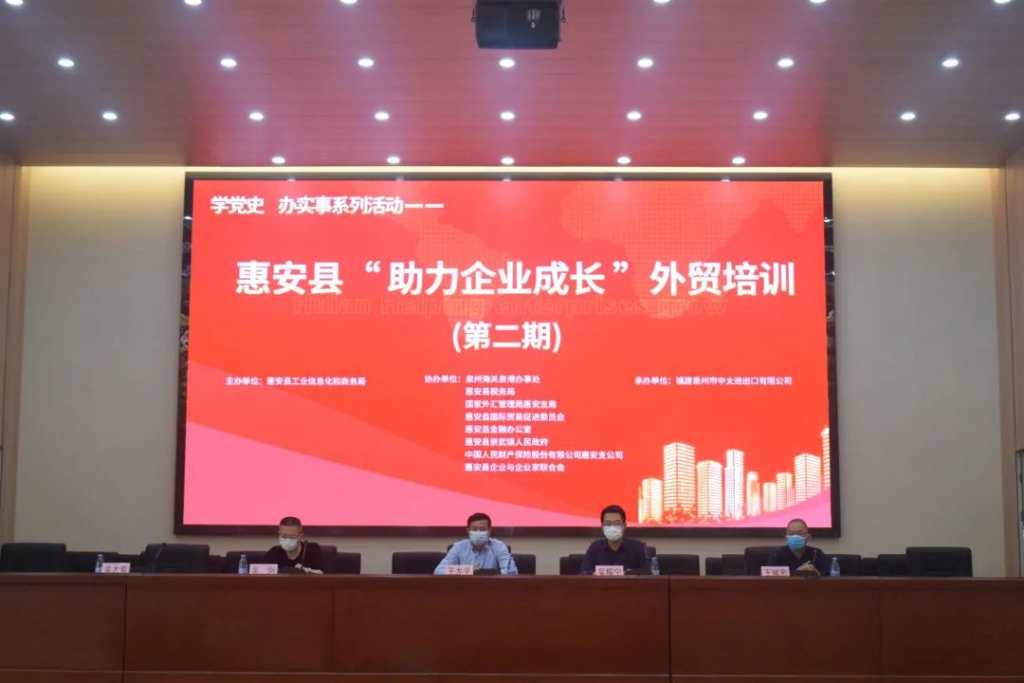 To coordinate with the epidemic prevention and control work, participants wore masks and sat apart. The training content mainly focuses on enterprise import and export business, involving relevant foreign exchange, tax declaration, customs clearance, import and export business practice, export credit insurance, common sense of certificate of origin, enterprise credit, bank financing, etc., and the targeted explanation is combined with the regional situation of Chongwu Town in Huidong.
02.The second Session of Foreign Trade Training — Chongwu Special Session (Morning session)
        After the speech, Mr. Wu Gang from Hui 'an County Branch of The State Administration of Foreign Exchange gave us the first lesson of the day, explaining in detail "goods Trade facilitation policies", "New business forms of trade" and "services Trade facilitation policies" to the students present. At the same time, it introduces the cross-border e-commerce, market purchase trade and foreign integrated service enterprises in the new business forms of trade, and takes Chongwu ocean fishing as an example to describe the matters needing attention such as document management and refueling in high seas.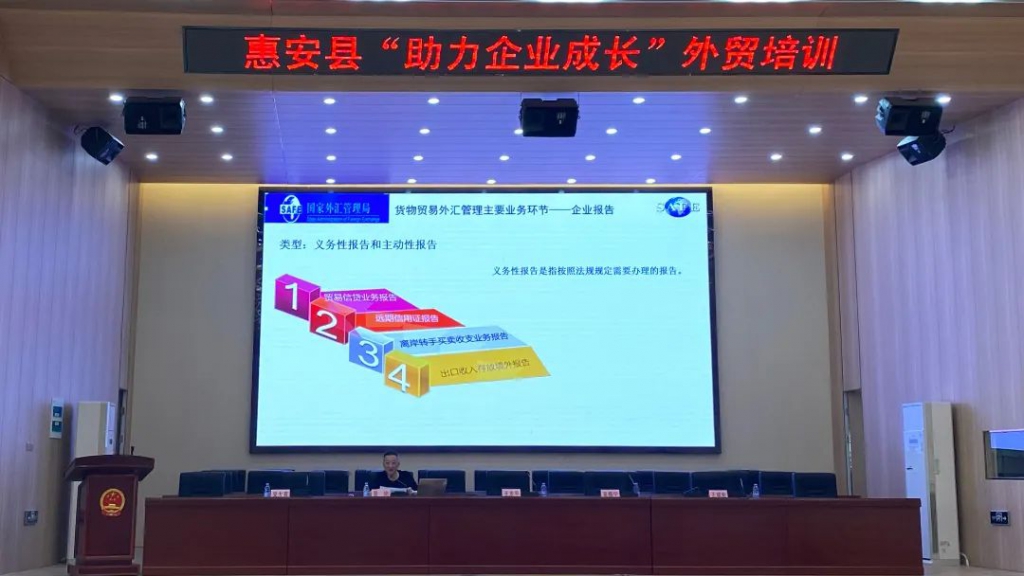 Mr. Wang Binhong, deputy branch director of Hui 'an County Tax Bureau, explained the function of import and export tax refund (exemption) declaration on the electronic tax Bureau platform, and explained the matters needing attention and risk tips of import and export tax declaration for enterprise students.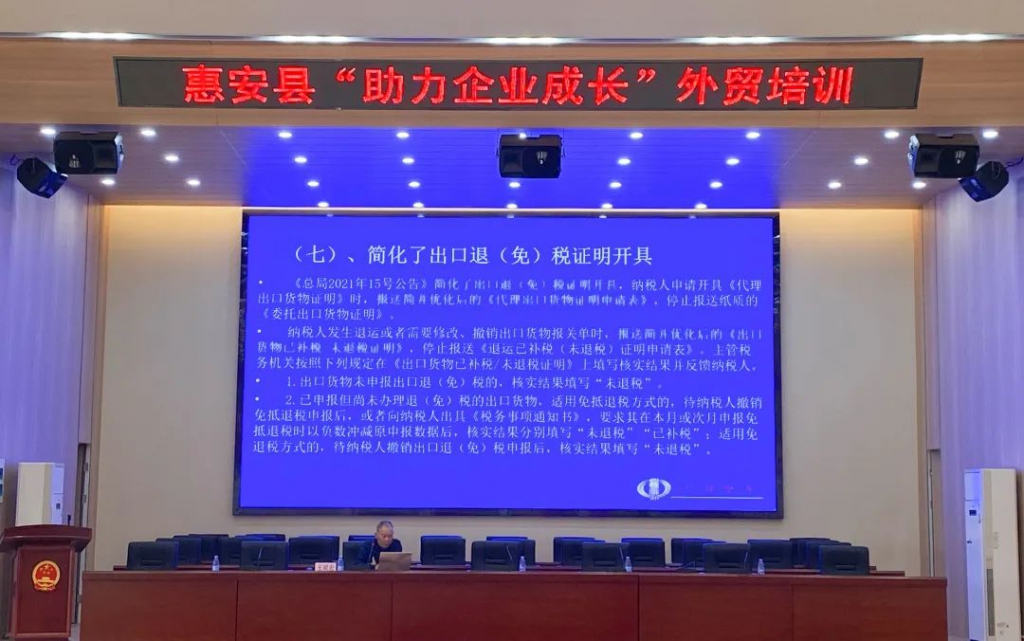 Ms. Wang Danni from Quanzhou Customs Office introduced the rules of Origin of FREE Trade Agreement and the application of its certificates, the policy of tariff concession for export goods, etc. Ms. Yan Shaoqun, director of Quanzhou Customs Office, explained the GSP tariff policy in detail and the latest customs policy for the students.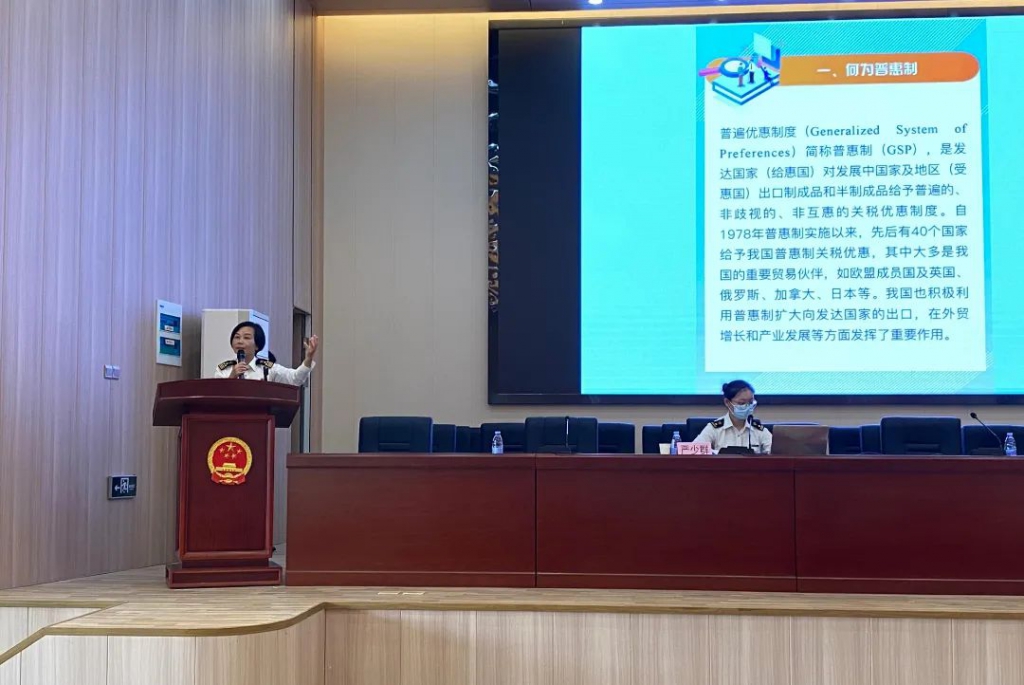 03.The second Session of Foreign Trade Training — Chongwu Special Session (afternoon Session)
        After dinner, we rest a little adjustment, but still sleepy. Mr. Wu Taiyu, chairman of Fujian Quanzhou Zhongtai Import and Export Co., LTD., explained the meridians and collateral channels of the human body and activated collateral exercises to disperse the sleepy and let the students absorb the knowledge in the afternoon in a better state.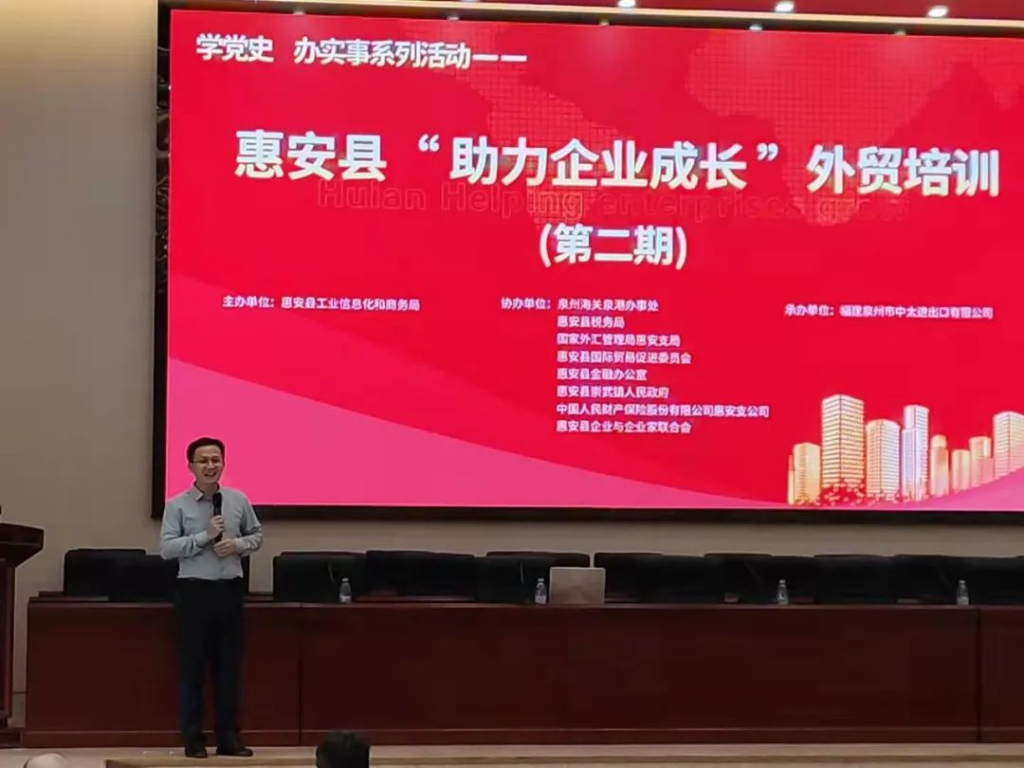 In quanzhou city of fujian province is too import and export co., LTD., chairman of the board, the fujian provincial department of commerce/mentor Wu Taiyu provincial foreign trade port office practice teacher to help students better present enterprises do customs declaration and drawback, bring foreign trade import and export business in field course and introduces the "single window", "with Hong Kong single window" function and operation flow of business platform, The export tax rebate and market procurement trade are explained in detail.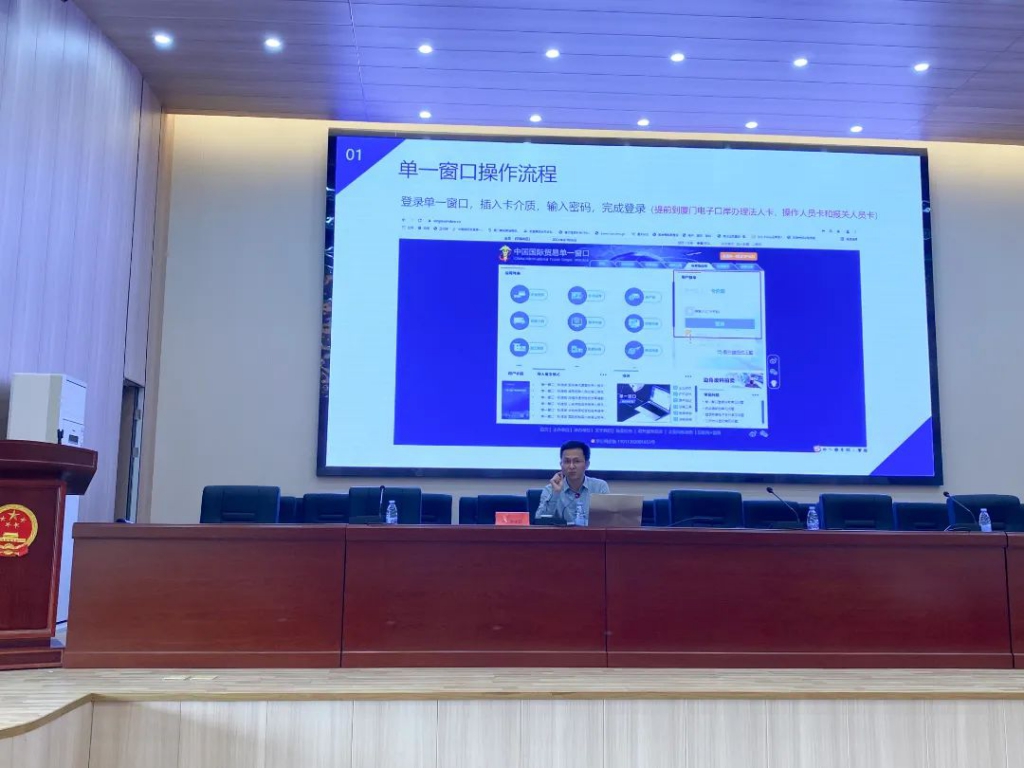 Mr. Huang Zhihai from PICC Huian Office gave a detailed introduction to the enterprise "Export Credit Insurance" and used various cases to let the students know the advantages of credit insurance in improving enterprise control ability and ensuring enterprise receivables security.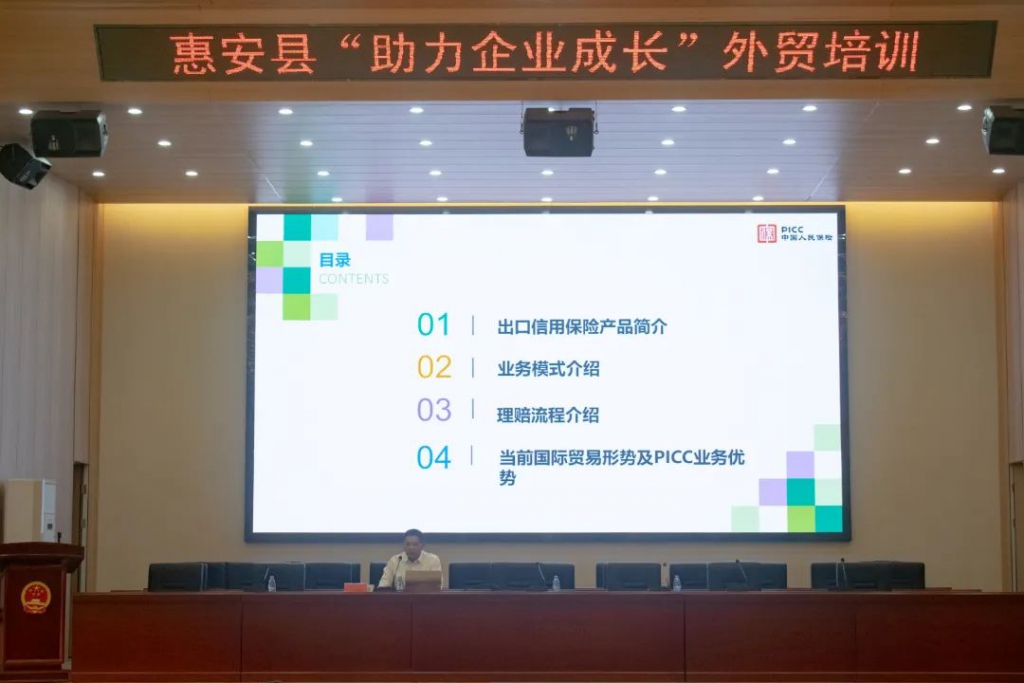 Mr. Wang Weipeng, from the trade and investment promotion and Legal Affairs Department of THE County Council for the Promotion of International Trade (CCPIT), explained the application process, filling specifications and matters needing attention of CCPIT certificate of origin, and applied for self-printing preferential certificate of origin.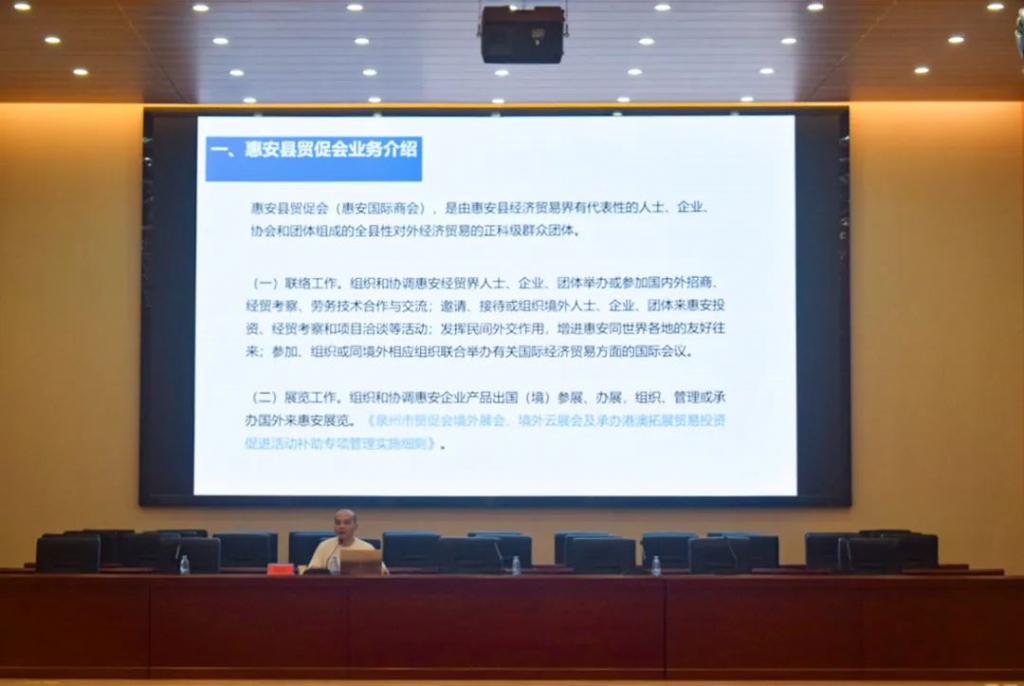 Mr. Wu Taiyu, the host, made a summary of the course and mentioned that the government has made a lot of convenience adjustment to improve the efficiency of enterprises. Enterprises should regulate their own behavior while enjoying the service, improve the enterprise information management, arm themselves with digital, and meet the new challenges of the new era.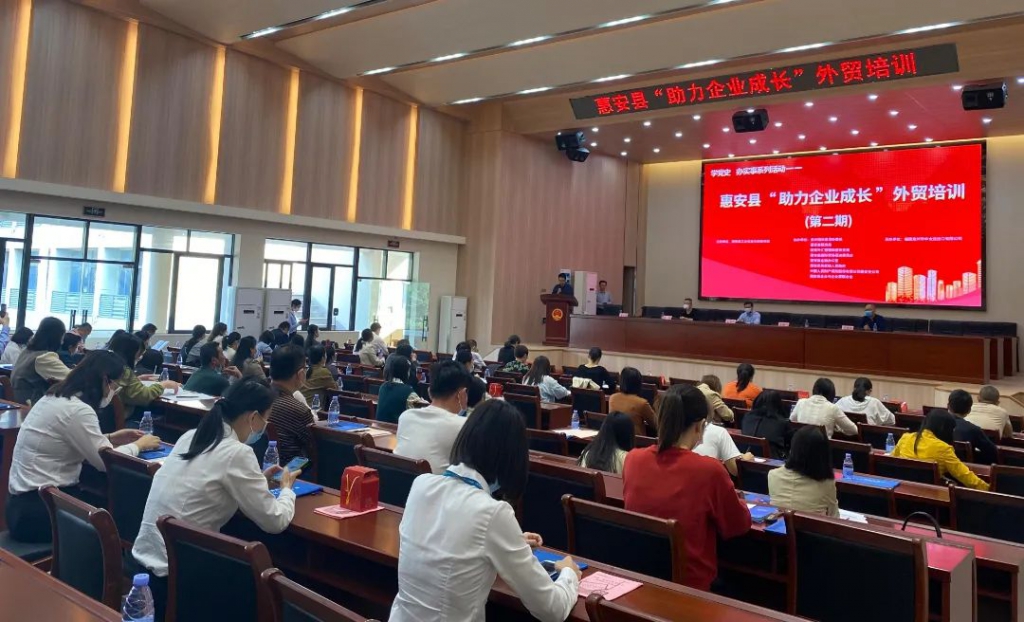 The one-day training came to an end, and we were deeply impressed by the wonderful explanation of the teachers and the earnest attention of the enterprise students. I would like to thank all the teachers present, and also hui 'an Industrial Information and Commerce Bureau for providing you with such a valuable learning opportunity. I believe that through this kind of training activities can continue to cultivate more practical and professional foreign trade professionals, to meet the needs of talents in the process of enterprise development!
Let's look forward to the next third training!