Xi jinping in the 4th China international import expo a keynote speech at the opening ceremony
Let the open spring breeze warm the world
——Keynote speech at the opening Ceremony of the Fourth China International Import Expo
(November 4, 2021)
President of the People's Republic of China Xi Jinping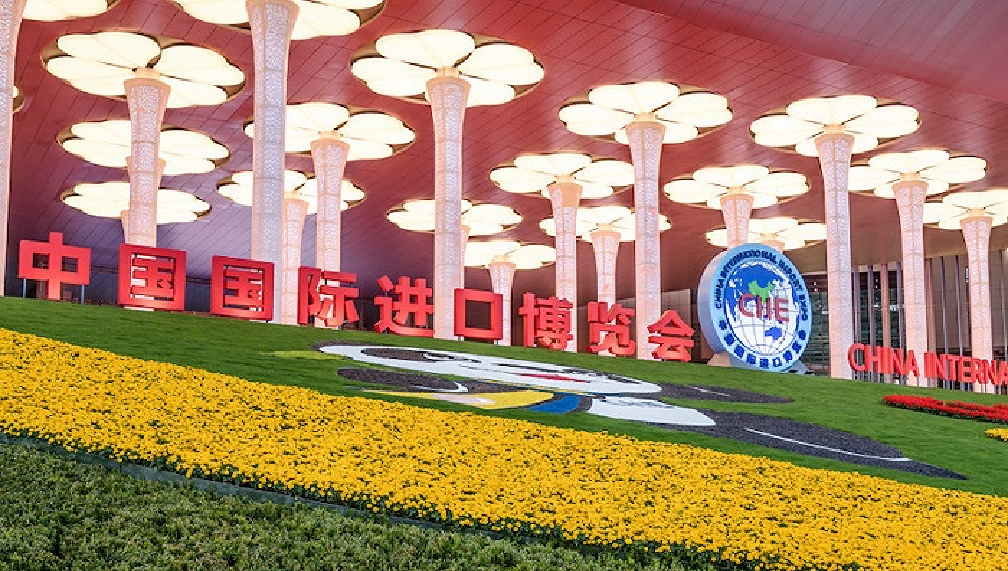 Your Excellencies Heads of State and Government,
Distinguished Heads of International Organizations,
Distinguished Heads of delegations,
Distinguished guests,
Ladies and Gentlemen, Dear Friends:
        Everybody is good! It gives me great pleasure to join you at the opening of the Fourth China International Import Expo. First of all, on behalf of the Chinese government and people and in my own name, I would like to extend a warm welcome to all of you. I would like to extend my sincere greetings and best wishes to all old and new friends!
        China has always been faithful in its words and deeds. The opening-up measures I announced at the third CIIE have been basically implemented. The negative list for cross-border trade in services has been issued for the Hainan Free Trade Port, reform and innovation of the pilot free Trade zone are making progress, access to foreign investment is being relaxed, and the business environment is improving. Negotiations on a China-Eu investment agreement have been completed, and the Regional Comprehensive Economic Partnership (RCEP) was the first to be approved in China. China overcame the impact of COVID-19 and promoted innovative development of its foreign trade. It was the only major economy in the world to see positive growth in its trade in goods last year, making important contribution to ensuring stability of the global industrial and supply chains and promoting world economic recovery.
        Ladies and Gentlemen, Dear Friends!
        At present, the world is undergoing century-old changes and the epidemic is intertwined, unilateralism and protectionism are on the rise, and economic globalization is facing countercurrents. Relevant studies show that the "World Openness Index" has been declining over the past decade and the global consensus on openness has weakened, which deserves great attention. He who does not advance loses ground. We need to grasp the trend of economic globalization, support countries in opening up wider, oppose unilateralism and protectionism, and work for a better future for mankind.
        Openness is the defining feature of contemporary China. This year marks the 20th anniversary of China's accession to the World Trade Organization. Over the past 20 years, China has fully fulfilled its WTO commitments. China's general tariff level has been lowered from 15.3% to 7.4%, lower than its WTO commitment of 9.8%. The central government reviewed more than 2,300 laws and regulations, and local governments reviewed more than 190,000, thus invigorating the market and society. Since the outbreak of COVID-19, China has provided about 350 billion masks, more than 4 billion protective suits, more than 6 billion test kits for more than 6 billion people, and more than 1.6 billion doses of vaccines to the international community. China has actively promoted international cooperation against COVID-19, supported the exemption of intellectual property rights for vaccines to developing countries, and fulfilled its commitments and demonstrated its responsibility with concrete actions.
        Over the past 20 years, China has risen from the sixth to the second place in the world in terms of economic aggregate, from the sixth to the first in terms of trade in goods, from the 11th to the second in terms of trade in services, and from the 26th to the first in terms of foreign investment among developing countries. Over the past 20 years, China has deepened reform and comprehensively opened up, grasped opportunities and met challenges, and taken the initiative to shoulder its responsibilities and deliver benefits to the world.
        Since its accession to the WORLD Trade Organization (WTO), China has continued to open wider to the outside world, which has invigorated the surging tide of China's development as well as the global economy.
        China's development and progress over the past 20 years since its accession to the WTO is a result of the hard work of the Chinese people under the strong leadership of the COMMUNIST Party of China. It is also the result of China's initiative to strengthen international cooperation and pursue mutual benefit and win-win results.
        I wish to take this opportunity to express my heartfelt thanks to all those who have witnessed this historic process and supported China's opening-up and development!
        女士们、先生们、朋友们!
        "To see out is to know in, to see out is to know." To achieve rejuvenation, a country or a nation must follow the logic of history and follow the trend of The Times. China's resolve to open up at a higher level, share development opportunities with the world, and make economic globalization more open, inclusive, balanced and beneficial to all will not change.
        First,China will unswervingly uphold genuine multilateralism. The multilateral trading system with the WTO at its core is the cornerstone of international trade. At present, the multilateral trading system faces many challenges. China supports the reform of the WTO in the right direction, supports the inclusive development of the multilateral trading system and supports the legitimate rights and interests of developing members. China will participate in negotiations on digital economy, trade and environment, industrial subsidies and State-Owned enterprises with an active and open attitude, safeguard the main channel of international rule-making of the multilateral trading system, and maintain the stability of the global industrial and supply chains.
        Second,China will remain committed to sharing market opportunities with the rest of the world. With a population of over 1.4 billion and a middle-income group of over 400 million, China imports about 2.5 trillion US dollars of goods and services every year and enjoys a huge market. China will pay more attention to import and promote balanced trade development. China will set up more demonstration zones for promoting innovation in import trade, optimize the list of imported goods for cross-border e-commerce retail, facilitate the processing of imported goods traded among border residents, and increase imports from neighboring countries. China will promote the integration of domestic and foreign trade, accelerate the development of an international consumer center city, develop the Silk Road e-commerce, build a modern logistics system, and enhance cross-border logistics capacity.
        Third,China will unswervingly promote high-level opening-up. China will further shorten the negative list for foreign investment and open up the service sector, including telecommunications and healthcare, in an orderly manner. China will revise and expand the Catalogue of Industries to Encourage Foreign Investment, and encourage more foreign investment in advanced manufacturing, modern services, high and new technologies, energy conservation and environmental protection, as well as in central and western China and northeast China. China will conduct high-level pressure tests on the opening up of the pilot free Trade zone and the Hainan Free Trade Port, and issue a negative list for cross-border trade in services in the pilot free trade zone. China will be deeply involved in international cooperation on green, low-carbon and digital economy, and actively promote its accession to the Comprehensive and Progressive Trans-Pacific Partnership and the Digital Economy Partnership.
        Fourth,China will unswervingly safeguard the common interests of the world. China will actively participate in cooperation at the United Nations, the WORLD Trade Organization, the G20, APEC, the Shanghai Cooperation Organization and other mechanisms, and promote discussions on issues related to trade and investment, digital economy, green and low-carbon development. China will support fair distribution and unimpeded trade of vaccines and other key medical supplies around the world. China will promote high-quality belt and Road cooperation to bring development opportunities and benefits to more countries and people. China will take an active part in addressing climate change, safeguarding global food security and energy security, and continue to provide more assistance to other developing countries within the framework of South-South cooperation.
        Ladies and Gentlemen, Dear Friends!
        As a Chinese saying goes, "It is hard to lift a man alone; it is easy to move him with others." As the shadow of COVID-19 continues to linger, the road to global economic recovery will be bumpy. It is all the more important for people of all countries to work together to overcome difficulties. China is ready to work with other countries to build an open world economy and let the spring breeze of opening-up warm the world!
        Thank you.
Article source:The Xinhua News Agency