The China-Cambodia Free Trade Agreement will take effect in early January 2022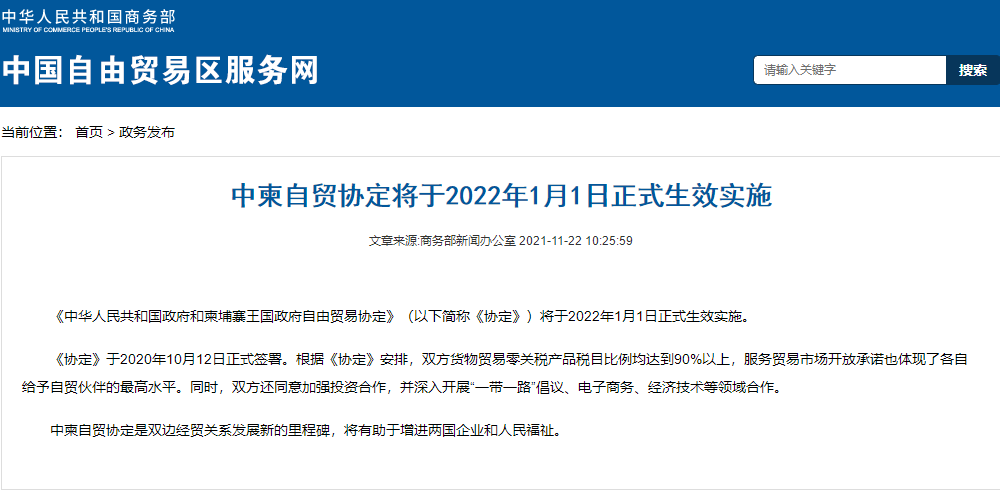 The China-Cambodia Free Trade Agreement will take effect in early January 2022
        According to the information released by the Information Office of the Ministry of Commerce on November 22, 2021, the Free Trade Agreement between the Government of the People's Republic of China and the Government of the Kingdom of Cambodia (hereinafter referred to as the Agreement) will officially come into force on January 1, 2022.
        After the AGREEMENT comes into force, the proportion of tariff exemption between the two sides will exceed 90 percent. Experts said that after the agreement comes into force, it will provide greater impetus for the two sides to deepen economic and trade cooperation.
        Kampong Speu province along National Highway 4 is a major mango producing area in Cambodia. Nourished by the rain and sun of The Khmer earth, mango flesh is delicate and fragrant. Every day, large quantities of mango are sliced, sugared and dried into sweet, flexible dried mangoes and delivered to Chinese consumers. In the first 10 months of this year, Cambodia exported 15,000 tons of dried mangoes, up 195.4 percent year-on-year, of which 12,000 tons were exported to China, data showed.
        It's not just mangoes. Cambodia shipped 227,000 tons of rice to China in the first 10 months of this year, up 37 percent year-on-year. China has become Cambodia's largest export market for a number of agricultural products.
        In addition, Cambodia has attracted more and more Chinese investors due to its geographical proximity, friendly bilateral relations, political stability, preferential trade to many developed countries, abundant labor resources and low cost. Jianping, deputy director of the institute of the Ministry of Commerce of China academic committee is introduced: "in the 'neighbourhood' cooperation within the framework of all the way, China now has a lot of new investment in Cambodia, for example, in nuuk, west port area of Cambodia, ormosia industrial park has been successfully operating for many years, and apply the corporate social standard guidelines of China's textile industry to industrial park. Chinese companies in Cambodia, such as mineral resources development, the development of real estate, and the construction of hydropower stations and other infrastructure, including in some labor-intensive areas, investment in Cambodia is very many, many young people find employment opportunities for local, but also drive the economic high growth in Cambodia."
        China has been Cambodia's largest trading partner and source of foreign direct investment for many years. Statistics show that in 2020, despite the impact of COVID-19, Trade between China and Cambodia still registered a year-on-year growth of 1.4% to US $9.56 billion. Among them, Cambodia's imports and exports to China increased by 0.9% and 3.7% respectively. Solid progress in bilateral cooperation in various areas has brought tangible benefits to the two countries and two peoples.
        China and Cambodia launched fta negotiations in January 2020, jointly announced the completion of the negotiations on July 20, and formally signed the FTA on October 12 last year. The Chinese Ministry of Commerce said the upcoming China-Cambodia Free Trade Agreement is a new milestone in the development of bilateral economic and trade relations and will help improve the well-being of enterprises and people of the two countries.
        According to the ARRANGEMENT of the AGREEMENT, China and Cambodia have reached over 90 percent of the tariff items in their trade in goods with zero tariffs, and their commitment to market opening in service trade reflects the highest level that each side has offered to its free trade partners. The two sides also agreed to strengthen investment cooperation and deepen cooperation on the Belt and Road Initiative, e-commerce, economy and technology. Jianping said: "the current bilateral free trade agreement more reflects the various fields of economic relations and trade cooperation between the attention of the institutional arrangements, signed by a high level of the fta, excavate the potential of market, industry, and in the process and the implementation of the china-asean free trade agreement, the implementation of the regional comprehensive economic partnership agreements parallel."
        It is worth noting that Cambodia is a member of ASEAN. In 2020, despite the COVID-19 pandemic, china-asean trade grew to us $684.6 billion, making a historic breakthrough for China and ASEAN to become each other's largest trading partner. Recently, the construction of version 3.0 of the China-Asean FREE Trade Area will be launched, and investment and trade between the two sides are expected to further increase. Zhang jianping said, "ASEAN is the initiative economy of RCEP, it is also a core, and China is a very important promoter and supporter of RCEP. So CHINA-ASEAN 3.0 should be able to keep up with RCEP and keep pace with The Times, and in some areas may be further deepened and improved."
Article source:Xiao er of customs affairs